Summer is coming. It's less of a Game of Thrones type threat than a promise of the stinking Queensland heat that is about to engulf us. People with swimming pools in Brisbane tend to shrug off this threat, almost looking forward to the scorching weather conditions, armed with inflatable unicorns and plastic cocktail cups.
However, if you're one of those unfortunate souls who currently do not own a swimming pool, well, you might as well resign to the cycle of endless cold showers and colourful swear words under that pathetic ceiling fan. It's only going to be bothersome for about six months, amiright?
What was that? Did you just say, 'oh, but I'm getting a pool built this summer'? Nice one. Though best not to get carried away before reading through our comprehensive blog on pool installation in Brisbane, so grab a cold one and let's get going.
10 Things You Should Know If You're Planning to Install A Pool in Brisbane
1. Know Your State Laws
Before you break ground – or even schedule a consultation with a pool builder – make sure you're aware of the local council and building regulations. Check for site coverage allowance, proximity to stormwater drains, and pool fencing requirements in Brisbane.
For double safety (and to avoid your neighbours' wrath) contact your state's Dial Before You Dig service to check the location of utilities such as gas, electrical, telephone, cable and water.
2. Decide on the Type of Pool you Want
In-ground or above ground, that is the question. There are three main types of pools you can choose from:
Vinyl-lined,

Fibreglass, and

Concrete.
Weigh the pros and cons of each pool carefully before deciding to build.
A qualified pool builder can give you the lowdown, based on your budget, site lines and accessibility. It's important to be realistic. If you live on a stamp-sized property, Olympic-sized pools are just not the thing for you, however ambitious you are.
3. Look For Longevity
With the temperatures starting to rise, the quick installation times of the above-mentioned fibreglass and vinyl-lined pools can be tempting.
But if you're looking for a durable pool customised to suit your vision (that is to fill your neighbours with envy), you may find that the longer installation time of a concrete pool – generally, between 4 to 6 weeks – is worth enduring, along with your better half's constant complaining about the mess. Six weeks is a long time.
You should also check with your insurance provider about extending your home policy to your pool or spa in the event of damage. We just love a good cyclone in Queensland.
4. Seek Out a Quality Filtration System
Chlorine or saltwater, indoor or out – every pool needs a water circulation system to keep it fresh and sparkling.
With advances in energy efficiency, automation, and heating, an experienced pool builder can help you find a reliable, high-efficiency filtration system for your pool.
5. Think About Maintenance
If properly maintained, pools can be a valuable asset when selling your house. However, if not properly constructed and maintained, you'll swing right the other way (a poorly kept pool can actually decrease your property value).
Hire trained and certified pool technicians to keep your pool sparkling for years to come. Yes, we do mean us.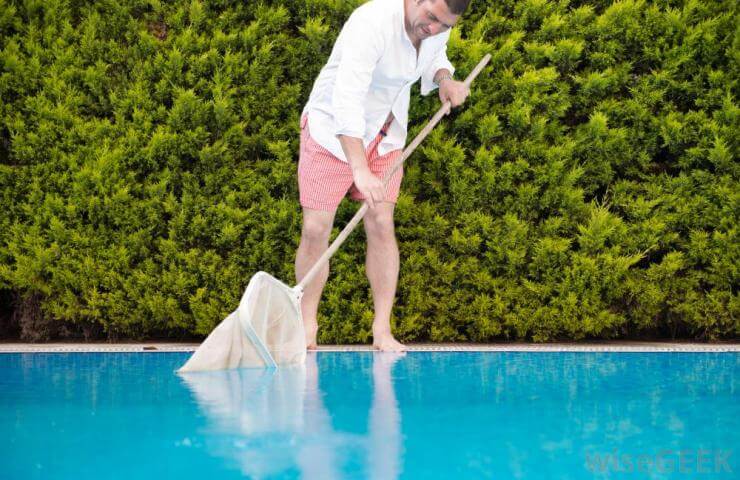 4. Consider Water Features and Lighting
When it comes to swimming pools, there are endless ways to create the ambient atmosphere you crave. Dynamic jets, underwater lighting, and cascading waterfalls, you name it.
Take time to consider what additional features you want for your pool before you build. They will increase your initial budget, but adding them in later can be messy, time-consuming, and very costly.
Keep it in mind, less is more, so go easy on the musical water fountain.
7. Don't Forget Landscaping
Do you want palm trees shading you from the afternoon heat or a pebble border (ouch) around your pool deck?
Like water features, lighting, and other accessories, proper landscaping can enhance the overall look a pool can offer.
Seek out inspiration online and consult with a landscaping company to create a lush yet manageable green space around your pool.
Perhaps this should be point no.1? With longevity, maintenance, and accessories to consider, it's time to face the budget of the pool of your dreams.
A pool can be a wonderful way to relax, but if you can only see flashing dollar signs with an impending stroke, it may not be the right move for you just yet.
Have a family pow wow, and talk with a financial advisor about the costs and benefits of adding a pool to your property.
If you're this far down the list, it's time for the meerkat. Be diligent when comparing prices. In order to make a deal, some contractors may not include everything in their initial bid, which is why the following item is so important.
Any construction project can have unforeseen costs or setbacks, and pool construction is no different. You want your pool to be the destination for your family and friends, so hire a reliable pool construction company you trust.
Building a pool in Brisbane is no small feat
To sum it up, pool construction in Brisbane, just like anything else, requires a lot of planning and consideration. Get the right people in, work out your budget and enjoy the results for years to come. And seriously, forget the musical water fountain.